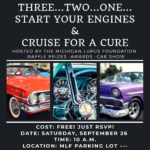 Lauren Burger, Communications Manager with the Michigan Lupus Foundation contacted us to participate in this very worthwhile charity event.  Lauren is the Granddaughter of Joyce and Pat Burger former GLCC Members.  Pat, Joe Burgers brother, passed away in 2016.
Michigan Lupus Foundation has invited us to a CRUISE FOR A CURE on Saturday, September 26, 2020 at 10:00am!  This event is completely FREE to attend! There will be a large raffle that all are invited to enter as we work to support lupus warriors and their families! Of course, you can't have a proper car show/cruise without awards/prizes as well!
Lauren's mother has had lupus for over thirty years….It is a chronic, autoimmune disease that currently has no cure. Lauren has never known a life without lupus and she has seen, first-hand, the struggles that come with living with an illness that is truly a 24/7 battle.
Please join us in support of the Burger Family!
RSVP Here