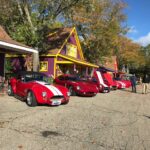 Our Thirds Snakes in the Grass event will be September 5 at the beautiful and scenic Canterbury Village beginning at 9:00am.
This is a great opportunity for talk, make new friends and enjoy coffee and donuts at Yates Cider Mill. Plus, to visit the great shops that Canterbury has to offer!
Lunch will be available at the restaurant at Canterbury Village.
Please RSVP: