Welcome to the GLCC Fall Color Tour on Saturday October 3rd!
---
Last year Tony and Bob plotted out a cruise route from Novi to the Ann Arbor area and ultimately experiencing the Car & Driver Top 10 Route!
It was a THRILL.
Actually the course to the C&D route was AT LEAST as exhilarating as the C&D route!!
We will meet at No VI Coffee and Tea House in Novi at 9:30 am (feel free to arrive sooner if you'd like to fill-up with coffee).  We will depart around 10:00 am and make our way to the Car & Driver Top 10 route. There is a gas station in the same lot at No VI so if you want to top-off your gas tank please do so (as you'll be burning some fuel on this route!)
There is a stop in the route for gas and bathrooms 13329 Unadilla Rd, Gregory, MI 48137
The route is below and printable by clicking GLCC2019FallCruiseDirections (1).  Tony may do the C&D loop twice!!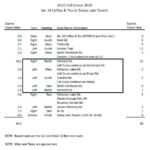 We expect to arrive at Zukey Lake Tavern (5011 Girard Dr., Pinckney) just before Noon.  We will order off of their regular menu.
Please RSVP Below