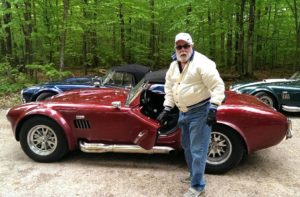 I am sadden to share the news that our dear friend and former GLCC Member Ron Roberts passed away on Thursday.
Ron was a Detroit native and very active in the Cobra community.  He worked at Ford and played with all things that had a motor; boats, fast hot rods, Cobras, race cars..
Ron and Craig Aylsworth had a standing competition on who had more HP, who had the fastest Cobra and who could run hard and not break it.  I am not sure who was the winner on those counts but they both were winners in terms of the friendly rivalry (but I know Craig broke his car more than Ron…lol).
Ron lost his wife Jody suddenly on September 7, 2006.  Jody was a Cobra Girl. She loved their Superformance.  Jody is pictured pictured below in their Cobra (yes she drove) it.
Several years after Jody's passing Ron got reacquainted with an ole friend Jody Hall (not that is confusing).  They have been side-by-side since!  Jody (Hall) is picture below with Ron to her right, Craig on the left and Sharon and me center.  This was the day Craig brought our Daytona Coupe to Michigan from Arizona.
Ron and Jody relocated to Tollesboro Kentucky several years ago and enjoy building up his ranch and spending time with Jody and Dawn (Ron's daughter).
Ron was a great friend throughout the years. He'll be missed.
Ron joins our other great friends, Bill Wells and Bill Gill in heaven.  I am sure they are already up to some devious plan to build a faster Cobra.
RIP my friend.  And prayers to Jody and Dawn.