Welcome to the GLCC C&D Route Cruise on Saturday September 17th!
---
Last year Tony and Bob plotted out a cruise route from Novi to the Ann Arbor area and ultimately experiencing the Car & Driver Top 10 Route!
It was a THRILL.
Actually the course to the C&D route was AT LEAST as exhilarating as the C&D route!!
---
This year, we are enhancing the event beginning with Cobras and Coffee (and donuts) at MRT Performance.
This will be a great opportunity to connect with Scott and Lisa to learn what's new at MRT and discuss any maintenance needs. Plus to get fueled up with caffeine and sugar!
We will meet at MRT Performance (45646 Port St, Plymouth, MI 48170) at 9:00 am.
If you need fuel to complete the trip, there is a Shell station (47373 Five Mile Road 48170) as you approach MRT.
---
We will depart around 10:00 am and make our way to the Car & Driver Top 10 route.
There is a stop in the route for gas and bathrooms 13329 Unadilla Rd, Gregory, MI 48137
The route is below. Tony may do the C&D loop twice!!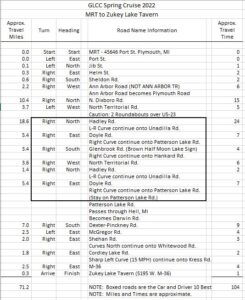 We expect to arrive at Zukey Lake Tavern (5011 Girard Dr., Pinckney) just before Noon. We will order off of their regular menu.
Please RSVP Below: