April 20, 2021 GLCC Membership Meeting Agenda
---
Club Health
Membership Update – 100
Cash Balance – $4,184
Catering Deposits – $1,370
Group Events Considering COVID Conditions
For now, we will "officially" avoid events that have large groups such as AutoRama, London Cobra Show, etc.
Near-term events have been planned with safety and social distancing in mind.
2021 Snake Pit Situation
Bloomfield Township has cut the budget for the Dream Cruise Event and will no longer be hosting.
We have contacted Comerica directly to continue the use of the lot. They are open to the idea but do not want to commit until June at the earliest.
In parallel we are pursuing alternatives as a fallback such as Birmingham Club Parking, but they are not making any plans yet to support WDC.
Event Plans through July (refer to the Event Calendar as dates may change)
Cobras and Coffee – 5/8
MRT Tech Event – 5/15
Shoobridge Spring Cruise (Memphis, Yale, Port Huron for lunch, Marine City for ice cream) – 6/5
Cobras and Coffee (this month at High Octane Café) – 6/12
C&D Route Cruise and lunch at Zukey Lake – 6/19
Cobras and Coffee – 7/10
Grosse Pointe Historic Cruise – 7/31
Chris Theodore Presentation on The Last Shelby Cobra and Book Signing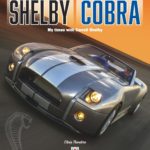 We have arranged to use M1 Corporate Garage for this opportunity.
We are working with Chris and M1 on dates.
"Daisy" will be on location for the meeting.
Next Meeting – May 18th