Join us on April 15th at noon for a tour of the historic Piquette Plant
and Lunch at nearby Z's Villa!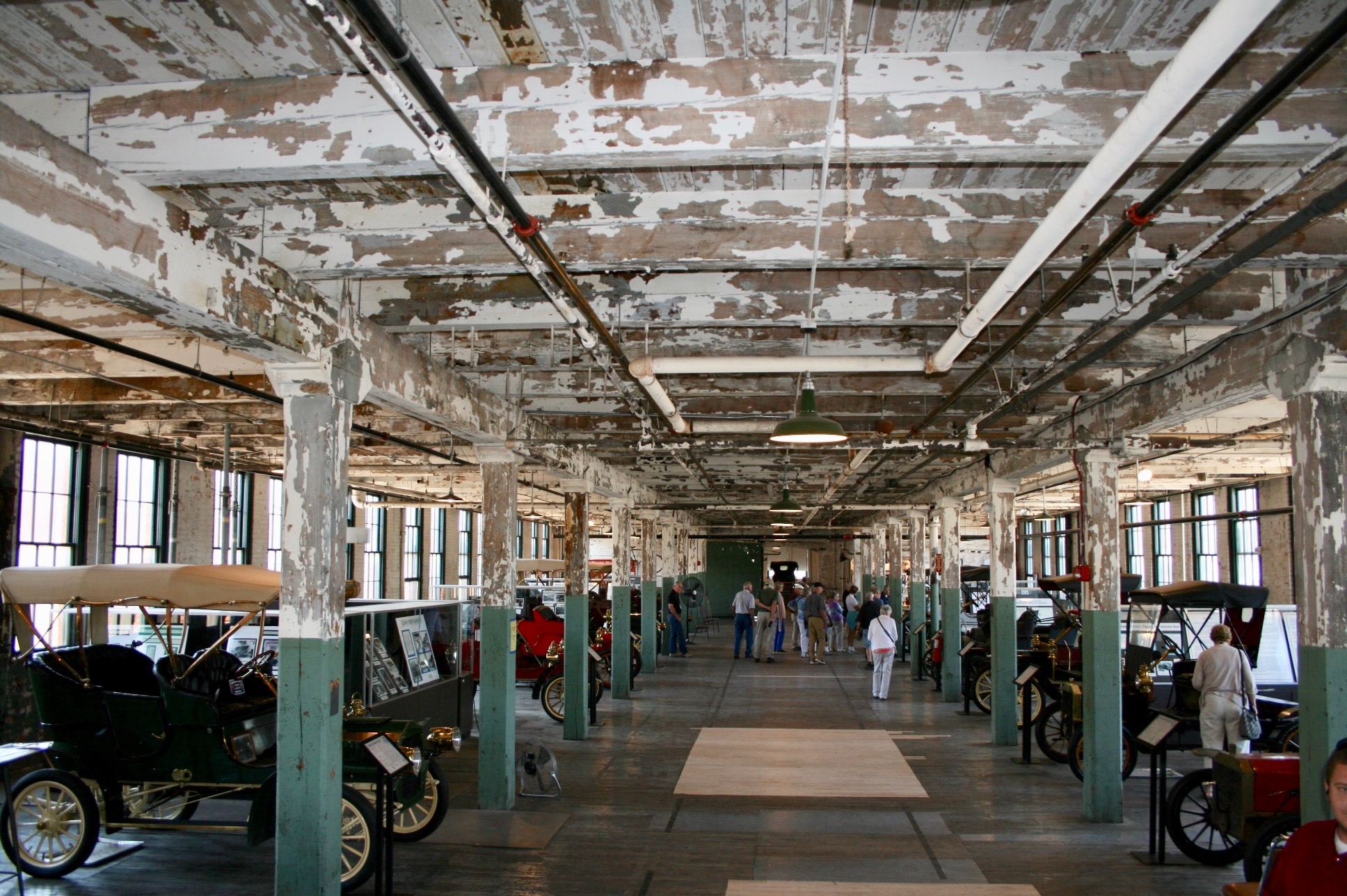 ---
As the birthplace of the Ford Model T car,
the Ford Piquette Avenue Plant is recognized as one of the
most significant automotive heritage sites in the world!
Built: 1904 on Piquette Avenue and the Milwaukee Junction Rail Line
Architect: Field, Hinchman & Smith, Detroit, Michigan
Architectural style: A late Victorian style brick building, modeled after New England textile mills, with wooden post and beam frame
Size: 402 feet long, 56 feet wide, three stories tall
Powerhouse: A separate building, 36 feet x 57 feet
Fire suppression features: Divided into four sections by three firewalls with fire doors, each section has fire escapes. A 25,000-gallon water tank on the roof fed an automatic sprinkler system, making it one of the earliest buildings in America with a fire suppression system
Cost: The board approved $76,500 for construction in April 1904
---
HISTORY
The Ford Motor Company's first purpose-built factory. Previously space was rented on Mack Ave.
Ford Models B, C, F, K, N, R, S, and T were assembled here.
The Ford Model T was developed here, introduced in 1908 as a 1909 model.
The first 12,000 Model Ts were assembled here and shipped out by railroad.
Ford Motor Company relocated to its new Highland Park Plant in 1910, selling the Piquette building to Studebaker in 1911.
Studebaker used it for automobile production until 1933.
The building was occupied by Minnesota Mining and Manufacturing Company and Cadillac Overall Company until purchased by Heritage Investment Company in 1989.
It was sold in 2000 to the Model-T Automotive Heritage Complex, Inc., (doing business as) the Ford Piquette Avenue Plant, that restored and now operates the historic site as a museum.
---
Fine Details
The Piquette Plant is located at 461 Piquette Avenue 48202 and parking is inside the gate to the campus.
We will meet at noon. If we have at least 10 people we will arrange for a private guided tour – so please RSVP early if you plan to attend!
Lunch is at Z's Villa 42 Piquette Ave, Detroit, MI 48202 less than a half mile from the Piquette Plant. Check out the facility and menu!