GLCC introduces another unique opportunity for access to a massive private car collection!
On Saturday April 2 at 9:30, Greg Ornazian has gratuitously agreed to open his eclectic private car, bike and memorabilia collection just for GLCC!
---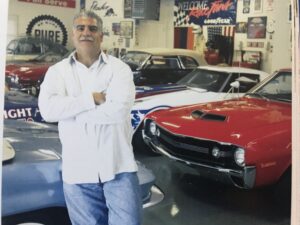 About Greg…
Many car collectors focus on a specific kind of vehicle. They might deal in sports cars or antiques, nameplates such as Ford or Chevrolet, or certain eras like the 1930s or 1950s. Then there's Greg Ornazian, whose tastes run from Volkswagen Bugs to Lamborghinis, with motorcycles thrown in as a diversion. "I have a pretty eclectic collection because I have pretty eclectic tastes," says Ornazian, who owns Troy-based Extrusion Punch & Tool Inc. and Varsity Welding. "I buy them because I like them."
The 52-year-old was nicknamed "The Horse Trader" in 2007 when he was profiled in the book Motor City Dream Garages. At the time, he estimated he had bought and sold about 150 classic cars over the past 20 years — the fun and challenging part of the collecting biz. "I never buy a car that I don't love," he says. "If I make money on it, so be it. If I lose money on it, so be it. But I don't regret it."
Ornazian, who grew up in Maryland, got hooked on the "horse trading" business even before he had a driver's license. When he was 15, he received a nonfunctioning 1959 Thunderbird from his godfather. By his 16th birthday, Ornazian had the car running. Not long after, he made his first sale. "It was an amateur restoration," he recalls.
In Maryland, Ornazian soon was spending a lot of time fixing up Corvettes and Volkswagens. "The Corvette world I loved," he says. "But I'd get in trouble with Corvettes for speeding, so I went back and forth between Corvettes and VW Bugs. My dad thought I was crazy spending $2,000 to $2,500 on a Corvette, but I never borrowed money to buy a car — I did a variety of jobs to earn the money. Then, when I'd sell it for more than I paid, he thought I was a genius."
Ornazian moved to Michigan after finishing college and getting married, and quickly caught the automotive bug. Extrusion Punch & Tool creates forging dies for the auto industry, and most of Varsity Welding's business is auto related.
---
Location: Contact Jeff @ jjgrice55@gmail.com for Location
Coffee and donuts will be provided
PLEASE RSVP: