Great Lakes Cobra Club
2021 Member Survey Summary
---
General Event Direction
In terms of frequency of events, 1 event during off season and 2-3 events during driving season per month was overwhelming viewed as a good balance
About Saturday or Sunday events most responders didn't have a preference but those with a preference want Saturday.
About time of day for events, the vast majority of responders prefer events to start Saturday morning.  Suggestions included to alter start time based on time of the year.  Some prefer to start at 9:00 or 10:00.
Most events are planned with a meal. Responders were balanced with either no preference of breakfast or lunch or stated lunch as preferable.
Weekday events.  Most responders indicated that they are not interested or not able to participate in weekday events.  Several responders commented that they would enjoy Members joining them at weekday events.  In past years we have published Member Choice weekday events so we will revisit this for 2022.
---
Event Themes and Locations
All responders want to continue the theme of planning drives to interesting towns.
Suggested destinations include:
Car and Driver Route
Mason
Dexter Cruise
Lexington
Auburn Indiana
West side communities such as Monroe, Grosse Isle and Gibraltar
Marine City
Ann Arbor
Milford
Howell
Thumb area along Lake Huron from Port Huron to Port Austin
Favorite events included
Snake Pit
Dexter
Canterbury
Country cruises
Zukey Lake
M1
Grosse Pointe
Memphis/Port Huron
Event Themes and Locations
Favorite events (cont'd)
St Clair
Holiday Party
Ford Proving Grounds
Lake St Clair Cruise
Cobras and Coffee
When asked about least favorite events or events to discontinue, Cobras and Coffee and any event further than 50 miles was mentioned.
When asked about the type of events our members preferred during the driving season the response was: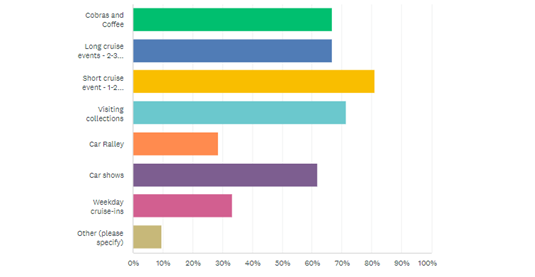 When asked for suggestions for 2022, members responded with:
Tech event
More members to attend London Cobra Show
Performance tuning
Track time
BBQ
Any event that gets members together! The true spirit of GLCC!!!
When asked about preferences for off-season events, members responded with: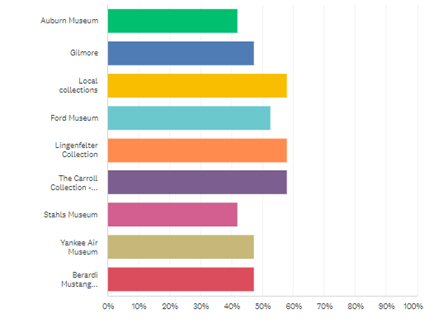 Comments for other off-season events included RM Motorsports, Roush Collection, any private collections.
---
Monthly Meetings
Suitable location for monthly meetings and the impacts due to COVID have created a dynamic that the Club needs to resolve.  As such the focus of this survey deals with Member interest in meetings, the frequency of meetings and location of meetings.
A few background points:
Participation levels in Monthly Meetings has generally been low and generally the same people.
Meetings at Pete's Garage have been our largest attendance consistently as it brings Michigan and Ohio members together.
When we had meetings at Gino's in Sylvan Lake, it was usually the Board and 2 or so other members.
When we moved to the Rusty Bucket in Bingham Farms we gained attendance, but the facility was noisy and not temperature controlled.
For context, 77% of the responders to this survey have participated in a Monthly Meeting.
We asked if members felt meetings were needed.  This was asked due to continued low participation levels.  It is NOT that we are pushing to abandon monthly meetings.
69% of responders feel Monthly Meetings are needed.
Key reasons for not being able to be attend include:
New member
Distance
Schedule conflicts
Tired of "zoom" meetings
Those who desire monthly meetings stated that the following is important to share:
Conduct business
New ideas
Schedule changes
Q&A with Board
Stay in contact/socialize
Feature Members Cobra
Many comments suggest that the level of communication is good outside of meetings and there is a large contingent that feel based on the regular communication that meetings may not be as necessary as they once were.  This could be a key reason why participation in monthly meetings is low.
When asked about frequency of meetings members responded with
Monthly – 55%
Bi-Monthly 21%
Quarterly – 21%
A key point is while initially 69% of the responders felt monthly meetings were necessary as the responders considered alternative meeting frequency the stated need to meet monthly softened.
Comments from members suggest a change is due. The comments below were mentioned by several members:
Seasonally adjusted meeting frequency: i.e., hold more frequently during winter months since we are together multiple times per month during the driving season.
Change schedule to bi-monthly or quarterly.
Hold as needed.
To reprise, the nature of this survey was not to suggest meetings be abandon but rather to understand why they are sparsely attended.  That said we posed as an alternative to online or in person meetings if sharing updates at an event be appropriate and acceptable in leu of a formal meeting.  92% of responders indicated agreed with this option.
Conclusions
While "zoom" meetings were a convenient solution during COVID many people expressed that for our purposes continuing "zoom" meetings is not appealing.
The overwhelming response has been that members receive the information they need through weekly newsletters. This could be a key reason why participation is low.
Given that 92% of responders felt conducting Club business at an event in leu of a separate meeting is a good solution we should schedule formal meetings as needed. Afterall, we get more and varied people to events so sharing information at an event covers a broader member base.
Use discretion during periods where there is no information to share we should forgo a meeting.
---
Holiday Party
For context of the responses, 50% of the responders have participated in the Holiday Party in the past and 50% have not.
Regarding satisfaction with Indianwood Country Club:
All but 1 of the responders viewed Indianwood as a great venue for the Holiday Party and the balance indicated they would like it to continue at Indianwood.
Those who attended the Holiday Party in the past viewed the food at Indianwood as good.
The top reason for not attending the Holiday Party was conflicting schedules.  We may need to move the date to better accommodate our Members availability.  This will warrant further probing for 2022.