SOLD!!!
GLCC is helping the family of Tim Beesley, who passed away, sell his beloved Contemporary Cobra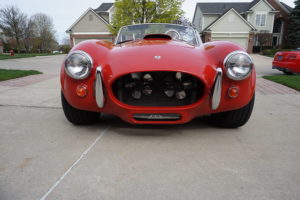 ---
Contemporary Cobra Overview
Ragoon Red with Black leather interior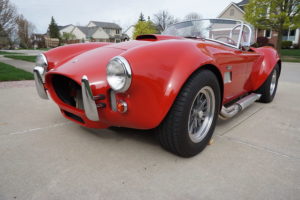 351 CJ
Toploader 4 speed
Jag inboard disc rear end
Coil overs
XKE rack and pinion steering
Pin drive Halibrand style wheels
Contemporary was the Gold standard for all replica Cobra's built and used a real CSX Cobra to build it's mold. The company was eventually sold to Superformance and is still in use for all their cars. This Cobra was completed in 1996 always garage stored and seldom, used showing under 4,000 miles.
Very nice car for someone wanting a Cobra and not wanting to pay the current prices.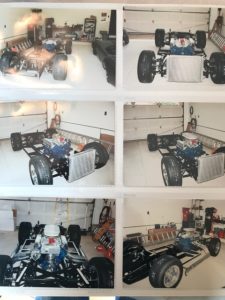 Tim was a skilled mechanic and built this Cobra to meticulous standards.
This Contemporary Cobra is FULLY DOCUMENTED!!
We have a bin of receipts, historical manuals, dyno results, magazines of the era, full pictorial of the build process, every receipt, full bill-of-materials, receipt from Contemporary and more…
Based on the purchase date and title (1996 Assembled) this fine Cobra is eligible for Canadian import!
---
Pictures (in process and completed), dyno results, parts inventory used, receipt for the kit follow
---
Condition and Assessment
Everything functions on this Cobra as it should.
Starts promptly and pulls like the 450hp dyno shows.
Oil pressure 60 pounds.
Drives straight and true.
After a rigorous test drive no signs of high temps.
The Cobra has been in garage storage and covered so well maintained since completion in 1996.
The past 2 years it has not been used.  As a result I would complete a tune-up and carburetor rebuild (it coughs occasionally on load)
It does need to be detailed and there are a few stone chips down low.
The doors and hood hinges need to be tightened and aligned and some abrasion where they stick.
---
Let's Help This Family Sell Tim's Cobra!
This Contemporary Cobra is being offered at $32,000 or best offer.
For more information and details, please contact Jeff Grice @ 586.489.5990 | jjgrice55@gmail.com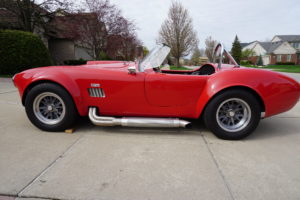 ---