Friends,
We are excited to share this great opportunity to visit a big piece of our history at the Air Zoo and Aerospace Museum on March 9th at 10:00 am.  The location is 6151 Portage Road Portage, MI 49002
---
From Modest to Major
Over its 40-year history, the Air Zoo grew from a nine-plane hangar display to a stunning, world-class aerospace and science education center with over 100 rare aircraft and spacecraft, interactive exhibits, and cutting-edge educational programs for people of all ages.
Founders
Without realizing it at the time, Air Zoo co-founders Suzanne and Pete Parish went to work curating our founding collection. After serving with the Women Airforce Service Pilots (WASP), Sue met and married Pete, a former WWII Marine Air Corps aviator. In 1959, Pete purchased half interest in a single-engine 35C Bonanza, and, before long, the couple purchased a Stearman Biplane. Next came an AT-6, followed by a Grumman Wildcat. When word traveled about a partially assembled P-40 in Addison, Texas, Sue couldn't resist. It was the combat plane she had always dreamed of flying as a WASP. Following a detailed restoration, this desert pink Flying Tiger became Sue's trademark aircraft. That very airplane hangs in the Air Zoo's atrium today.
An Air Zoo is Unleashed
Sue and Pete had always wanted to share their enthusiasm about World War II airplanes with the public. So, when a friend offered to give them his Grumman Bearcat if they agreed to open a museum, they jumped at the chance. The Kalamazoo Aviation History Museum opened its doors to the public at 3101 East Milham on November 18, 1979. The museum became popularly known as the "Air Zoo" because of the distinct animal names of the aircraft in the original collection, including a Wildcat, Hellcat, Bearcat, and Flying Tiger.
The Air Zoo Today
Four decades later, the Air Zoo continues to tell those significant World War II stories through our 1940s aircraft displays and exhibits focused on the Guadalcanal campaign, WASPs, black fighter pilots, and the Doolittle Raid. But we've also expanded the story to include Early Flight, the Golden Age of Flight, the Cold War/Jet Age, and Space. Amusement park-style rides send children's imaginations soaring in our Flight Innovation Center, erected in 2005, and an array of simulators give fearless pilots a wide variety of flight experiences. Over 100,000 artifacts and archives help us tell a myriad of stories about aerospace heritage and innovation. From that small hangar, we've grown to provide our visitors with more than 100,000 sq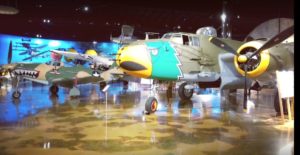 uare feet of combined exploration, education, and exhibition space. Our once modest displays now include such heavies as the world's only SR-71B Blackbird. Our STEM-based education programs ignite imaginations while our exhibitions, including industry-leading, international travelling shows, offer engaging experiences to visitors of all ages and learning styles. And historic aircraft are given a new lease on life through restoration on public view in our renowned Flight Discovery Center. Oh, how we've grown!
---
The visit will take 2-3 hours (all depending on how fast we walk through).  Lunch following is at Lattitude 42.