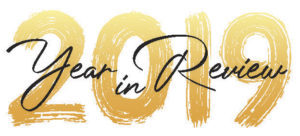 This year, like 2018, has been a challenge for all car enthusiasts in the area.  No Spring.  No Fall.  Lots of rain in the summer.  Snow early. Another thrifted driving season.  I recall 6 years ago our Spring Lake St Clair Cruise was in mid-April and it was a gorgeous day. Since then we have moved into May and then to June just to chase the sunshine.
What will 2020 bring?  Well, our promise is that your Board will do our best to provide interesting opportunities to drive your Cobras!  Mother Nature is in control of the rest.
Each year we provide a variety of events that offer something for everyone! In all we created 38 opportunities to get out and have fun together in 2019.  They range from our meetings, to Cars and Coffee, breakfast runs and more elaborate events like the Garage and Home Tour (M1 Garage Tour combined with George and Rhonda's home), Ford Proving Grounds, All Snakes Car Show for the fine young men at the Methodist Children's Home, Best-ever Snake Pit, the all-new Fall Cruise (which we will do in the Spring and Fall now), Snakes in the Grass and others.  Despite the uncooperative weather this year we hope you had a few opportunities to get your Cobra out, enjoy some spirited driving and hang-out with GLCC friends!
If you have not had a chance, check out the Photo Gallery from 2019 – click here.
In terms of Club Health, we are 106 members strong.  That means over 210 people are impacted in some shape or form by what we do as a Club.  Financially we are also in good health.  A goal has been to optimize our events and subvent costs to make more attractive and increase participation. Based on our membership levels and anticipated expenses we can continue that approach for 2020.
As part of our 2020 plan we have identified the need for a few capital expenses.  For example, with increasing participation at the Snake Pit (Dream Cruise) we have a need for additional tents to provide shade. We'll be watching for spring sales.  Our Club trailer needs repair and maintenance (tires, bearings, brakes and doors replaced).  We will be evaluating the best path to take in the interest of the Club; i.e. repair or replace. In any event the Board will be creating a fund for such expenses.
We are very happy to report that for the past 2 years we have made sizable charitable donations as result of your generosity from the Snake Pit.  The registration fees, silent auction, charity drives and 50% of the raffle proceeds all went to charity!  Thank you!!  The $4,000 raised for charity happens through your support and generosity (along with each of our many donors)!!
Another goal of GLCC is getting the next generation of enthusiasts involved in the Club.  Achieving this goal requires much more work.  Most Car Clubs face this challenge.  Nonetheless we need to solve for the sake of the next generation of Cobra owners.  The good news is all evidence suggests generations to come will be interested in Cobras.  To make GLCC interesting to all generations we will continue to focus on diversity and the needs of each generations.
Your Board is deep into the development of the 2020 Event Plan.  Change is important to keep things fresh and interesting.  Your input from the Member Survey is appreciated…and keep the ideas coming!  We intend to roll-out the preliminary 2020 plan in our February meeting.
GLCC would not be a Club if it wasn't for the Members.  So, we thank you for hanging out with us!  The friendships developed are truly cherished and for a lifetime!!  Our passions for Shelby Cobras brought us together as friends…so the mission is working!
MANY thanks to our Board.  Bob Harvey our Secretary.  Tony Simari our Treasurer.  Bob Russell our Events Director.   George Acree our Vice President.  They are each great partners and friends.  We have a great Board who is UNITED in our focus to build relationships, socialize and drive our cars.
Thanks and see you soon!
Jeff