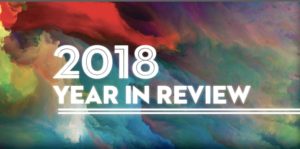 The purpose of this update is to reflect on 2018 and to peek into 2019.  Frankly, spring cannot come fast enough!
Throughout the year you have provided feedback on the Club and the events. Thank you.  That feedback has been critical to shaping the Club and creating memorable experiences enjoyable by all.
In 2018, we created 30 opportunities to gather, have fun and most of them to drive our cobras. Picking dates for events and aligning to good weather patterns has always been a challenge.  But this year was hampered even more as we barely had a spring and very few nice days this past fall.  But I hope you enjoyed the days in between!  And those days together can be reminisced through our Photo Gallery.
I want to take time in this update to reflect upon the improved operation of the Club.
We have reshaped the role of the Board over the past 2 years such that all Board members are actively involved in all aspects of our event planning and execution.  We are running on 16 cylinders.  We meet on event planning and business matters about 8 times during the year.  The results have been evident as execution of our event plan is very streamlined and effective.
Succession planning is very important in every aspect of our lives. And important to GLCC.  To that end, we have developed a process such that everything GLCC does is FULLY documented. This action will enable anyone to pick up and continue the momentum of the Club in the future.
Last winter the Board set forth a project to develop a new website. This was done with very little cost and gave us back control over our website.  Our new website is very functional, easy to maintain, cost effective and visually appealing.
In terms of health of GLCC we achieved a few noteworthy milestones…
99 Members on board. We have had a few more in the past but that was largely attributable to a dozen or so people just joining to attend the Snake Pit at the Woodward Dream Cruise.  We broke that trend with all new members joining in it for the long-term.
For the first year in recent history the Snake Pit at the Woodward Dream Cruise was self-funding.  For many years the Club had to contribute several hundred dollars to offset expenses.  This is a significant milestone as it was accomplished without thrifting any aspect of the event!  Additionally we reduced the member cost for those attending solo.
You helped us raise nearly $5,000 for Charities this year through participation at the Snake Pit (details here).
Our other "big" event is the Holiday Party at Indianwood.  We have reduced the member cost and at the same time eliminated several hundred dollars that the Club funded previously.  So as with the Snake Pit, the Holiday Party is largely self-funded PLUS our new venue at Indianwood is a big hit!
Your Board is deep into the development of the 2019 Event Plan.  Change is important to keep things fresh and interesting.  Your input on ideas from the Member Survey is appreciated.  We consider ALL input.  And we take it in context to input/direction previously received so we view the voice of the members not just in this moment by over the past few years.    We see a sensitivity to event costs, ensuring locations are appealing to all members, a surge in interest with track events among other good bits of counsel.  Take a sneak-peak at the preliminary plan and we will be discussing in detail at our January Meeting.
GLCC would not be a Club if it wasn't for our Members.  So, we thank you for hanging out with us!  The friendships developed are truly cherished!
And, MANY thanks to our Board.
George Acree our Vice President.
Bob Harvey our Secretary who has also held multiple terms.
Bob Russell was recently appointed as our Events Director.
Tony Simari our Treasurer who has held multiple terms.
They are each great partners and friends.  We have a great Board who is UNITED in our focus to create interesting opportunities to socialize and drive our cars.
Happy New Year!!
Jeff